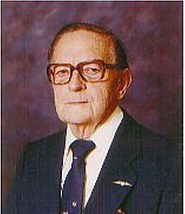 At the beginning of the modern era of archery in Australia, Alex Barter was there. His involvement started in the early 1940s when he and his friends, as model aeroplane enthusiasts, could not get fuel for their planes because of wartime restrictions. They took up archery shooting roving rounds anywhere they could find open space.
He was a founding member of Adelaide Archery Club (AAC) in 1944 and was one of the driving forces behind the creation of a national body. Indeed the first meeting of the National Council of the Archery Association of Australia was held at his home in August, 1948.
He was South Australia's first Board Member to the Archery Association of Australia and he holds the distinction of being its longest serving member; holding the position from 1948-1986. He was also a founding member of the Archery Association's Rules Committee (from 1948) and contributed significantly to the preparation of the first National Constitution and Rules. He relinquished the Chair of that Committee in 1988.
He was a foundation member of Eden Field Archers in 1953, which began as the field archery arm of Adelaide Archery Club.
In 1965, Alex and his wife Edie took over the publishing of "Shooting Lines" – a nationally and internationally distributed archery magazine – a role they maintained until 1989. In his role as editor, Alex published many essays and articles on all aspects of archery; this lead to his developing a wide range of contacts and friends in Australia and overseas. His library is one of the most comprehensive in the country.
His trade was as a fitter and turner and this enabled him to start a manufacturing business (Goldline), which supplied many items for archers at reasonable prices. He is credited with inventing the clicker – it started out as a small piece of rubber acting as a draw check indicator. Unfortunately, he did not patent the concept and it was soon picked up by others. He ran the Archery Equipment Company in his spare time from his for many years and clients were always assured of good service and advice and Edie was always on hand with a nice cuppa.
Alex was president of the Archery Society of SA (now ARCHERY SA) for some 23 years, during which he made it a priority to encourage the formation of new Clubs. Due largely to his efforts, SA had for many years the largest per capita membership in the country.
Alex held the belief that a healthy balance between elite performance and grass roots development is the only way the sport can grow and remain viable. He was an outstanding coach.
In 1967, Alex was honoured by the Archery Association of Australia when he became the first Life Member of the Association. He was awarded Life Membership of ARCHERY South Australia in 1977. He was also one of the first two Australians to be recognised by FITA, with a FITA Bronze Plaquette in 1983.
His service to the sport was recognised by Her Majesty the Queen in 1980 when he was awarded the Medal of the Order of Australia (OAM). In January, 2000, he was awarded the Australian Sports Medal for his many years of outstanding service to archery.
The ARCHERY SA Veterans' (now the 50Plus) Tournament is named in his honour and for many years Alex presented the winning trophies – he believed the sport should be participated in by people of any age and fully supported Masters competition.
Alex died on 23rd June, 2005, aged 91.
(From information supplied by Norm Smith)